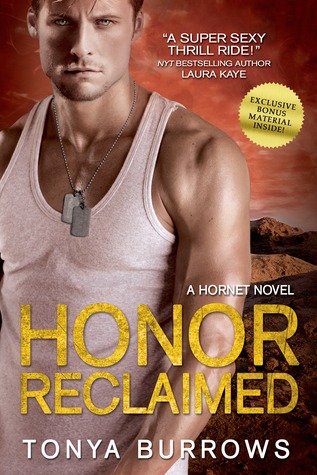 Honor Reclaimed
by
Tonya Burrows
Series:
HORNET #2
on May 27th, 2014
Buy on Amazon
|
Buy on Barnes & Noble
Goodreads
Former Marine sniper Seth Harlan is determined to prove that he can still do his job despite his ongoing battle with PTSD. When an old friend contacts HORNET to rescue a black ops soldier, Seth's stability is strained. He knows all too well what it's like to rot inside an enemy camp, praying for rescue and waiting for death. And he's not about to leave a man behind.

Photojournalist Phoebe Leighton just stumbled into the middle of an arms deal. Teaming up with a ragtag team of mercenaries is the last thing she wants to do--especially when she realizes Seth Harlan is assigned to the mission. He may ignite a passion in her she thought long dead, but Phoebe's hiding a secret that could destroy him.

With a bomb in the mix, HORNET's mission is suddenly about a lot more than an abandoned soldier. Racing against the clock, Seth, Phoebe, and the rest of the team struggle to stop a ruthless warlord bent on power, revenge...and death.
Holy jalapeno, Tonya Burrows has written another H-O-T book about those Hornet men! Honor Reclaimed is a romantic suspense that follows former Marine sniper and POW turned Hornet team member Seth Harlan as he battles severe PTSD demons and learns to let go of the past. When we meet Seth he's barely hanging on to his sanity and his new teammates don't have confidence in his abilities because of his untimely flashbacks, but he's determined to successfully get through his probationary period and become a full Hornet team member.
Photojournalist Phoebe Leighton is on assignment in Afghanistan when she stumbles into a situation that puts her in Seth's path. The arms-dealer-turned-politician who is holding another American POW hostage that the Hornet team has been sent to extract has nosy Phoebe in his evil sight. Can Seth and his Hornet teammates keep her safe?
During their time together, Phoebe helps Seth open up about his feelings of guilt over losing his last team and being the only one to survive their time in captivity. Their relationship grows from physical attraction to mutual respect and understanding. But can their relationship survive when he discovers the secret she is keeping from him?
I really enjoyed getting to know the quirky personalities of all the team members and hope each one gets his own book. Each character is beautifully flawed, and I can't wait to see how each one grows into his best person.
The best line in the book: "Here lies Seth. Survived the war only to be sexed to death."
Related Posts