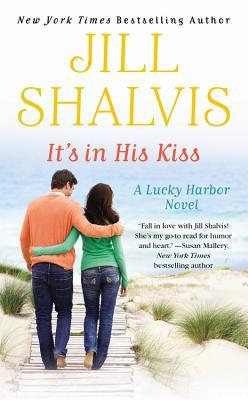 It's in His Kiss
by
Jill Shalvis
Series:
Lucky Harbor #10
on August 26th, 2014
Buy on Amazon
|
Buy on Barnes & Noble
Goodreads
ONE KISS CAN LAST FOREVER
Becca Thorpe has uprooted her life and escaped to the beach. Now's her chance to get away from city living, throw caution to the ocean winds, and live in the moment. Especially if the moment includes the deliciously sexy surfer she meets shortly after arriving in Lucky Harbor. Something about the dark intensity of Sam's eyes and the thrill she gets at his touch convinces her to stay awhile.

Boatbuilder and investment genius Sam Brody is a self-made man who knows how dangerous it can be to mix business and pleasure. But he can't resist offering Becca a job just to hear her laugh and have her near. Yet when her brother comes to town asking for help, will he tempt her back to her glamorous life in the city? Or do Sam and little Lucky Harbor have a chance to win Becca's heart?
It's In His Kiss is the tenth installment of Jill Shalvis' Lucky Harbor series. Ten. Books. There are not many authors who can say their fictional town, which is filled with beautifully damaged people, has led to so many fantastic novels. I want to live in Lucky Harbor and have these characters as my BFFs!
In this story, the witty and talented Ms. Shalvis shares Becca and Sam with us. Sam and his two best buds run a boat charter business and Becca shows up in Lucky Harbor to regain her peace of mind after years of her family taking advantage of her goodness. Sparks immediately fly between Sam and Becca and they fast become friends, as well as employer-employee.
During the course of the story, we learn about Sam's trust issues and how he grew up with a neglectful father. Sam believes actions speak louder than words – he even refuses to say the "L" word to those few people he does trust and love. While Sam is busy helping Becca build back her confidence, Becca breaks through Sam's barriers and shows him he is able to love and lean on someone.
I loved every fun, sassy, and sexy moment of this story! Ms. Shalvis sucks you in from page one and doesn't let go until the end of the epilogue. You can't help but fall in love with this couple and all the other secondary characters we meet. Ms. Shalvis did a fabulous job of setting up her next two stories with Cole and Trevor. I can't wait to get to know them better and fall even more in love with them and Lucky Harbor!
Related Posts