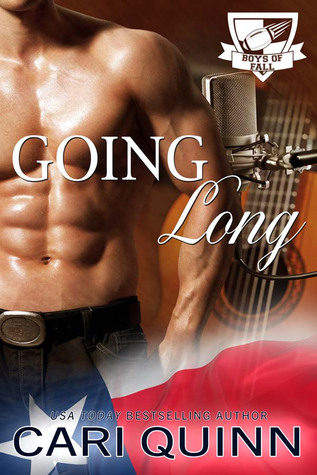 Going Long
by
Cari Quinn
Series:
Boys of Fall
on January 19th, 2015
Buy on Amazon
|
Buy on Barnes & Noble
Goodreads
This time, he'll need to hit all the right notes to win the woman he's always loved...

Wade Bennett is used to coming in second to his seemingly perfect older brother. In high school, Colt was a star linebacker while Wade was the punter, an important job without all of the glory. When Charlene Martinez—the only girl Wade ever truly wanted—fell for Colt, Wade decided to take his chances with music and went on the road. Leaving behind his family, his best friend, Rafe, and Charlene, who had feelings for Wade she never allowed herself to feel.

Years in Nashville quickly hardened the dreamy guy who just wanted to sing and hang out with his dog. His success has given him more than enough money, even if he knows he'll never be able to compete with his hometown hero big brother. But after Coach Carr's heart attack, Wade comes home to help the man who helped him make the decision to chase his dreams all those years ago.

Now Wade wants to chase a new dream in his old hometown, especially since Charlene is single again after divorcing Colt. And Wade is no longer a boy unwilling to fight for what—and who—he needs.
This is the first book by Cari Quinn I've read. I really enjoyed her writing style and the story she told with Charlene and Wade.
I love how all three of these books happen at the same time. Wade won me over instantly with his country charm and with the feels I was getting from him. I know how he was feeling being second best in many aspects of his life. After leaving to pursue his music career, he comes back to help Coach out at his ranch until he is better. He hasn't been back since he planted an unsuspecting kiss on Charlene. Even knowing she and his brother have been divorced for years now, he's unsure about how their reuniting will go. After a rocky start, they pick up the flame that never quite extinguished.
Charlene charmed me with her hard working attitude and wonderful, caring personality. She was a breath of fresh air. You know how in some books when characters get a second chance with a past love and they keep that other person at arm's length? That didn't happen in this book. Charlene knew she wanted Wade and wasn't going to look a gift horse in the mouth. These two were fantastic together. And let me tell you, Cari sure knows how to write a steamy sex scene!
I enjoyed how well Cari's story flowed with the other two. If you don't know, Cari Quinn, Mari Carr, and Erin Nicholas's Boys of Fall books happen all at the same time. I am a bit analytical and I was trying to figure out where everyone was during the different times of the story. Great book and I can't wait to read some more!
Related Posts